Put Me Back Together
by: Lola Rooney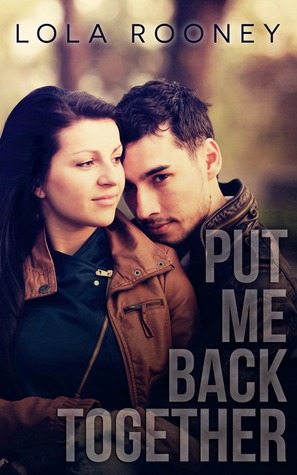 Blurb ~
You'd Better Watch Yourself, Katie Kat

Katie Archer knows how to lie. After six years, no one really knows what happened That Night. Not even her twin sister. Choosing a college 3,000 miles away from the truth, Katie throws herself into art classes and a love affair with ice cream. Katie's biggest rule? No boys. Ever.

But there is the little problem of Lucas Matthews. Former basketball star and total campus hottie, Lucas is the stuff girls have naughty dreams about—and he has the reputation to prove it! But that doesn't stop liquid heat from running through Katie's veins every time she sees him…

You'll Never Get Away With It

Letting Lucas in is the hardest thing Katie's ever had to do. And telling him the truth? Impossible. Then Katie starts to get threatening texts and she realizes Lucas is the least of her problems. Her past has caught up with her and it wants to settle the score.

I'm Coming For You

Now Katie must decide whether she wants to fight for her life, or leave everything—including Lucas—behind her forever...
Copy provided by NetGalley for Honest Review
4.5 Love Will Put You Back Together Stars

Put Me Back Together was nothing like I expected. Sure it was full of romance but the danger and pain from Katie's past is nothing I would ever have guessed. At times I was horrified and equally curious, wondering how Katie could shelter herself away from life and lving when all it did was make her more fearful. Thus her and her twin move hours away from home, away from the bad memories, to start college and hopefully move on.
Moving on is easier said than done for Katie. Though her sister lives on campus, Katie doesn't like to be around people and pretty much barricades herself inside her apartment unless she has school or other obligations.
Lucas has his own share of demons haunting him. Once the campus athlete, now Lucas is just your average student. Well, if average students looked and behaved like him that is.
One could blame the chance meeting of Katie and Lucas on her love for ice cream.
The two end up meeting in a dark alley where they inevitably save a stray cat. The first meeting was both comical and sweet, suggesting a gradual and epic romance between the two.
The one thing Katie will not do is confess her past, even her sister doesn't know the whole story. The way the book is written, readers are given snippets of Katie's past, but for the most part we are clueless until the pieces start coming together. I liked the gradual suspense element that was a bit frightening at times and in the end a bit anti-climatic, but I enjoyed the story as a whole nonetheless.
There are some rather graphic description scenes from Katie's past. Rather than give tons of detail just be wary of brutality and pure shocking moments bother you.
Overall I enjoyed
Put Me Back Together
. There was no insta-love and Katie's hesitance towards even talking to Lucas was refreshing. When two artists come together like this you know at the end of the day your world will be more vibrant and colorful. Lucas and Katie struggle together to overcome their pasts and put faith in one another to succeed. Neither expects love to be right around the corner, or for their demons to come back to haunt them.
However, they never expect the healing power of love to 'put them back together.'
☮ PEACE LOVE & HAPPY READING!!!