My Clarity
by: M. Clarke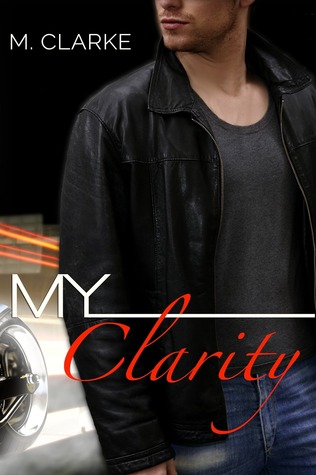 Blurb ~
Still reeling from the death of her father, Alexandria hopes to find both independence and reprieve from her grief by heading off to college. However, life throws her a serious curveball when she discovers that her roommate isn't quite the person she had imagined.

Smoking, tattoos, and street racing for fast cash are Elijah's only interests. A harsh life has made him apathetic and indifferent, until Alexandria enters his life. When their paths cross, turmoil abounds.

An inevitable encounter, an undeniable attraction, and an unexpected chance at love—will it be enough?


** This is a New Adult romance novel recommended for ages 18+
due to sexual content and mature subject matter.**
4 Undeniable and Unexpected Stars
My Clarity felt very old-school New Adult to me. It brought me back a couple years ago to my first college aged book full of angst, romance and drama that only NA could provide. I enjoyed the story, the characters and the funny antics of them all.
Alex is getting over the pain of losing her father. She's starting school and hopes that being distracted will make things easier. Luckily her cousin hooks her up with an apartment and a roommate named Ellie. Only Alex is going to learn that sometimes things do not always go the way you expect.
"No, but I can make your dreams come true if you'll let me." – Alex and Elijah
The beginning of the story really worked well at dragging me in and giving enough detail about the characters to make them all interesting and worth reading about. Poor Alex gets the shock of her life when she finds people having sex in her new room and I couldn't wait to see how she would handle this debacle and the many more to come.
Elijah is a life force all on his own. There is immediately tension between Alex and Elijah but neither are ready to make a move, not to mention Elijah is not normally the type of guy Alex would ever be involved with, what would her father say. So Alex does the smart thing and declares Elijah her 'fantasy' but we all know fantasies coming to life are the best part.
I didn't understand this hold she had on me. I didn't like it on bit. Not only was she seeing someone, but I didn't want to have a relationship; she was making me so confused."-Elijah
Near the end I thought I was going to cry myself to death. So you've been warned about a serious tear-jerking moment. I wasn't sure how everything would play about at this point and I was worried I wouldn't enjoy it, but this story turned out to be beautiful from start to finish with a few speed bumps and fallen power lines along the way.
Overall this was a very good story. It had small elements I felt came from other NA novels but they worked together really well within the story. I felt a bit of Travis in Elijah's daring take no names demeanor and also a bit of Christian when Elijah feels threatened or those he loves are hurt. Watch out ladies, Elijah will have you squirming in your seat and making you wish you were ten years younger. These two are like a modern day Sandy and Danny from Grease. She's the good girl and he's the bad boy with the reputation to match. The fact that they share love of the movie just makes it's better. This was a very slow romance which I appreciated and the overall feel of the story was very positive. Nothing bad to say. Would make for a nice, easy and fun weekend read.
☮ PEACE LOVE & HAPPY READING!!!