Book Review March 28th
The Baby Bargain by:
Jennifer Apodaca
★★

2 Stars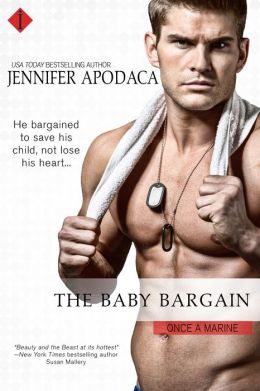 Blurb:
Seeing Adam Waters is the last thing veterinarian Megan Young expects. Ex-Marine. Ex-boyfriend. And still extremely dangerous territory. But Adam doesn't know the secret Megan has been keeping from him. The secret that was created three years ago, after their last night together...
Adam returns to Raven's Cove to sell his home in a final break with the town and memories that haunt him. The problem is that his attraction to Megan is as blazing hot as it ever was. But when a vicious smear campaign against Megan turns ugly, Adam learns the truth he never knew—he has a son.
Now the only way Megan can protect her child is to strike a bargain with Adam. And it's a bargain that looks a lot like blackmail.
*ARC Provided by NetGalley for an honest Review*
Blah…. That was my response while reading and after reading The Baby Bargain. Normally, I'm a sucker for a baby story, especially when we get to see the father and child interact. Nothing mattered in this story. It's like something you've read fifty times before and it lacked any sort of originality. I found myself staying up late to finish the book not because I wanted to but because I wanted to be done so I could move on to bigger and better things.
And what's with the title? What is that? I mean there's no bargaining going on here. Makes it sound like they're buying a baby off the black market and trying to get the best deal.
Basically the plot is straightforward. Adam and Megan used to date in college. They break up because he can never see himself settling down or being good enough for her and a few years later they sleep together as she tries to comfort him at his parents' funeral. Adam leaves Megan behind again, only this time she winds up with a bun in the oven. Adam's firm belief that he will never marry nor father a child, leaves Megan in a lurch and inevitably decides to keep their son a secret. Few years later Adam returns and obviously sparks fly between the two. Megan tries to keep her secret as long as possible and when she finds herself in hot water, she comes clean and obviously Adam is furious.
At this point I feel I should mention what a complete let down Adam is. He is such a weak man and a whiney baby. I wanted to bitch slap him constantly as he went on and on about how bad he is, not worth anything blah, blah blah. Like grow up and be a man. He's torn up over an incident when he was younger and his brother lost his life. It all seemed too much for me. And the drama seemed way blown out of proportion from his side of things.
Megan was pretty unlikable as well. She goes on and on about how she's going to resist Adam. Not only does she have a secret kid by him but he left her twice before. Yet first time he comes on to her and she's mush. I hate weak characters. Grow some backbone, especially considering she knows there is a 110% chance that Adam will leave her again. And she's always comforting him. Because of course no one learns from their mistake the first time, they have to repeat them over and over again.
The similarity between their son Cole and the accident that befell Adam's younger brother was annoying and boring. So obvious and I didn't even feel it worked within the story. It just gave another un-needed dramatic moment that allowed Adam to show how weak he was. Pity party galore.
So I could go on, but I won't. I realty did not like this story. I would not recommend it. Fans of long lost love stories and pregnancy/babies will be sorely disappointed, but have no fear there's tons of other stuff out there to occupy your time. But if annoying, self-pitying, drown in despair characters are your thing, by all means pick up The Baby Bargain, otherwise move on. You will be happy you did.
HAPPY READING!!!