Clipped Wings (Clipped Wings #1)
by:Helena Hunting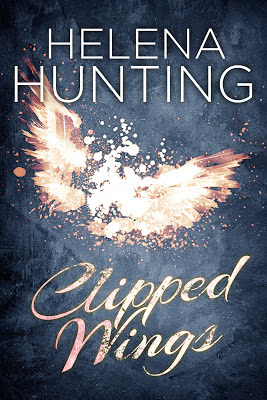 Blurb ~
An emotional love story that follows the touch-and-go relationship of Hayden and Tenley; two young people who desperately want to love and be loved but are afraid to completely let go of their pasts.

As Hayden and Tenley navigate their newfound but slightly unstable relationship, they want to trust each other, but Hayden is hiding a dark and shameful past that he doesn't ever want Tenley to find out about. And Tenley has secrets of her own that could make Hayden run away forever. When Tenley asks Hayden to put a beautifully elaborate tattoo across her back, the two form what they thought was an unshakeable bond. But when Tenley's past shows up on her doorstep, will Hayden stand by her side...or run?
So after hearing about this book I wanted to see what the fuss was all about. Surprisingly I knew this was originally written as fan-fic and has since been re-edited, but I didn't get that vibe at all. Sure this fits in a NA category seamlessly but the dynamic and relationship between Hayden and Tenley read as realistic drama rather than contrived writing based off something else.
Tatted bad boy lovers will immediately side with Hayden. Always the rule breaker, Hayden doesn't hide behind anything and carries all his pain for the world to see. Covered in tattoos that mark and symbolize his journey through life, Hayden has finally found his place in the world, until Tenley comes and throws him off axis.
There is no insta-love but there is so much lust floating between the two it was hard not to be caught in the crossfire. Tenley is hesitant to act on any attraction to Hayden. He's completely opposite of everything she knows and even though he too has pain in his past, he wears it and Tenley is still hiding behind her walls. Her plan to change this involves Hayden and 20+ hours of tattooing.
The entire story was very enjoyable to read with few to no slow parts. Both Hayden and Tenely have ghosts and demons in their pasts, things they are hesitant to share but then again neither ever saw their attraction turning into something more. Something neither expected and something Tenley doesn't know if she's ready for.
The side characters were a pleasant addition, I think my favorite is Lisa the piercer at Inked Armor. Considering the circumstances surrounding Tenley's past, she needs a friend more than anything and these inked comrades (that most people would silently judge) are the only ones she feels comfortable with.
Overall I really enjoyed the story and have already started on the second. Suffice it to say I hated the end… Huge cliffy so make sure you have the next available. Helena Hunting has certainly written a novel of the times and I can see why so many fans adore it. However that being said I do not think it is worth the 7+ dollars it is being sold for on Amazon. Thanks to NetGalley for this copy I or probably would have passed on the whole series. Recommended for lovers of ink, bad boys, heartache, drama and even more drama.
**Copy Provided by NetGalley for Honest Review**
☮ PEACE LOVE & HAPPY READING!!!