Book Review May 4th
Reaper's Property (Reaper's MC #1)
by: Joanna Wylde
★★★★ 4 Stars
Blurb:
Marie doesn't need a complication like Horse. The massive, tattooed, badass biker who shows up at her brother's house one afternoon doesn't agree. He wants Marie on his bike and in his bed. Now. But Marie just left her abusive jerk of an ex-husband and she's not looking for a new man. Especially one like Horse—she doesn't know his real name or where he lives, she's ninety percent certain he's a criminal and that the "business" he talks with her brother isn't website design. She needs him out of her life, which would be a snap if he'd just stop giving her mind-blowing orgasms.

Horse is part of the Reapers Motorcycle Club, and when he wants something, he takes it. What he wants is Marie, but she's not interested in becoming "property of".Then her brother steals from the club. Marie can save him by giving Horse what he wants—at home, in public, on his bike… If she's a very, very good girl, she'll get lots more of those orgasms only he can offer, and he'll let her brother live.
Maybe.
REVIEW
Reaper's Property
was a smoking hot biker read that really brought the Reaper's world to life. Aside from my dislike of the main character Marie who was far too whiney in my opinion. Horse on the other hand was sweet and compassionate considering the hardcore world he lives in. This is not a story of candy and romance instead it's an in your face street brawl and you have no clue who will win.
The Reaper world is not for everyone. Hell, some of the parties they hold would turn some peoples stomachs but when they party they hold nothing back. Horse and his Reaper family are all discharged Marines too hardened for the real world. Being a Reaper is a way of life and bad things happen all the time. When Horse offers to brand Marie as his, she flipped out and I wanted to smack her. She didn't even ask him questions but flips out like it's a dirty thing and I could not help but feel bad for Horse especially when he was showing his sweet and vulnerable side. Marie somehow hurts him in the harshest ways, I can't believe he didn't give up on her.
"Things are different in the outside world, but the club is a tribe. If a woman isn't climes she's fair game. But when a biker brands her as his property, she's untouchable."-Horse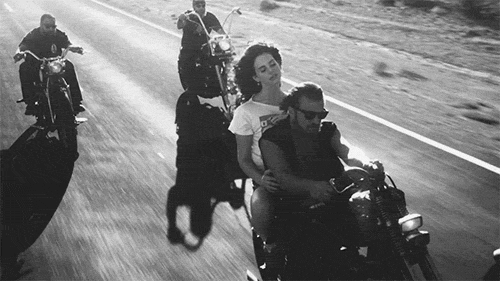 I loved the Reaper family, especially the old ladies. If not for them I doubt Marie would have been able to adjust to the world. The Reaper's may think the ladies don't have any clout in the their world, but they make things happen and have more control than anyone likes to admit. I wouldn't be surprised if they eventually start their own, woman's only club.
"I want you to be my old lady, babe. That's all I have to offer. I'm a Reaper, and this is my world. You wear my patch, you be my woman and I'll be your man."-Horse
Oh Horse! What's not to love about him. He's a hot man, covered in leather, driving a bike and could kick down a house with the toe of his boot. Horse is blunt, rude and hardcore but he will light your panties on fire.
"So why are you called Horse?"
"Cause I'm hung like one."
Marie really annoyed me and I could not connect with her. She was very contradictory in my eyes, trying to be such a good person but it was all an act. Every time Horse would say she would run her mouth, without knowing what she's even talking about and stayed quiet when he would say something meaningful.
Reaper's Property was great, especially when a brash, vulgar, bad-ass biker is just what the Dr. ordered. And Horse certainly delivers….
HAPPY READING!!!