Book Review May 20th
Eyes Wide Open
by: Raine Miller
★★★★ 4 Stars
Blurb
:
Big surprises are on the horizon for Ethan and Brynne as they struggle to adjust to what life has thrown at them. Demons from the past are threatening to destroy the passionate bond they've forged despite their vow that nothing will ever keep them apart. A truly devastating loss coupled with the promise of a new hope opens their eyes to what is most important, but is it possible for the lovers to move on from the painful histories that continue to haunt them? A stalker is still lurking in the shadows, plotting evil amidst the distraction of the 2012 Olympic games in London. Brynne and Ethan are on the cusp of losing everything as the stakes rise. Will they yield to circumstances beyond their control or will they give every ounce of fight they have left to save each other and win the ultimate prize of a life together?
Review
*ARC received from NetGalley in exchange for an honest review*
The Blackstone Affair did not disappoint but it did not blow my mind like I wanted either. It

was ridiculously predictable. At times it was hotter than ever and we finally we get to see the demons that plague Ethan and the culmination of Brynne's past, though honestly, three books later and her "stalker" was sort of a letdown. Through all three books there's an air of danger. First with the mystery of what happened to here, then Ethan catching the threats meant for Brynne. In this book the threat didn't come out until the end and then it was immediate and didn't seem worthy of three books. Beside the fact how predictable and obvious it was.

One of the best things about the series is the continuity between all the books. There are no time jumps or skips so if you finish one and pick up the next book you are good to go. No disconnect here. And add to that the dual POV's in this book and I was in heaven. (On a side note, I wish there was some sort of marker to indicate when there was a POV shift. At times I would be a few pages in before I realized it was no longer Brynne's mind and I'd have to go back and start over.)
"Did I ever mention how sexy you Brits sound when you say banana?"
"You just did…I'll give you my banana if you want." – Ethan and Brynne
Ethan continues to take his Alpha male-ness to the max and boy is it hott. If possible he seems even more domineering and controlling in this book - and for some unknown reason it just works for Ethan. He does not come across as a pompous ass, just normal, well, as normal as a delicious British security expert can be. His military experience left him scarred, as it does many others. But most don't endure torture the way he did. He has a hard time admitting his fears and nightmares to Brynne, but together they learn to fight anything thrown their way, past, present or future.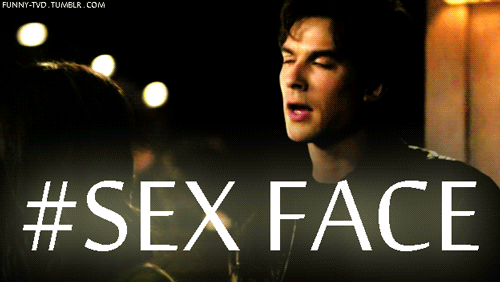 It was really interesting this time around to get a more inside look into Ethan's life. Sure we met his father but the relationship with his sister, her husband and their children was remarkable. At times you can even feel the same shivers as Brynne does when watching him because he is so sincere with his affections. And the kids were great, especially Zara and her ill-timed comments. Just proves how much kids really do say the darndest things. I'll admit I was happy Brynne's 'illness' was not dragged out as it was very obvious to reader's and watching Ethan panic a bit was extremely riveting and entertaining. Brynne's family on the other hand. All kinds of crazy in this book. First off her mother is like Queen Bitch and I can't understand how she can or why she bothers to talk to her. And her father, such a sweet guy, what happens is completely unfair and made me mad because it seemed like something thrown in to add more drama.
"If anything ever happened to her, I'd be finished. This was my truth."-Ethan
I wonder if all trilogies or books with three or more in the series work with the same concept. Book one=introductions and sizzling romance that the female runs away from in the end. Book two=hero trying to draw back female into his graces and typically there is a proposal at the end of some sort. Book three=not much left than to get pregnant and either the hero is thrilled or quite the opposite. This whole predictability is rather annoying. It makes the plot and book seem too organized and pre-planned. But holy crap the whole bump dot com references were amazing. I'm officially a fan and so saddened that that site does not exist. If it does someone clue me in. All I could find was thebump.com and that did not offer up veggies and fruits. The way Ethan was all over this site and knew things before Brynne was more than just an "aww" moment. It's so obvious how much he cares for Brynne, he's willing to do literally anything and face any demon to the ends of the world. This showcased his soft, gooey center but he was still a bad-ass nonetheless, especially when he goes all caveman and wants to Tarzan-pound his chest with glee.
As for the future of the series, I was worried when I saw a book #4 was on the horizon. Bad enough we had to wait so long for the release of this book #3 I was not looking forward to another long wait just to see Brynne and Ethan find their HEA. But have no fear, the fourth book will work as a stand-alone and takes place after the HEA occurs in this novel. You can breathe easy and just know that there is more Ethan Blackstone to come in the future. Yet at the same time, this book ended on a good note and I think dragging it on further is a waste. So for me, I'll stick with 1-3 and leave other readers' the honor of book #4.
Check out this upcoming book on
Goodreads.
I'll admit whoever first named David Gandy as Ethan Blackstone was spot on. Every-time I think of Ethan now, this is who I see.
As always, HAPPY READING and be sure to read, enjoy and savor Mr. Blackstone, I mean Eyes Wide Open, it was a great, can't put down or go to sleep READ.
Raine Miller has been reading romance novels since she picked up that first Barbara Cartland book at the tender age of thirteen. And it's a safe bet she'll never stop, because now she writes them too! Granted Raine's stories are edgy enough to turn Ms. Cartland in her grave, but to her way of thinking, a hot, sexy hero never goes out of fashion. A part-time teacher and writer of sexy romance stories every other chance she gets pretty much fills her days. She has a handsome prince of a husband, and two brilliant sons to pull her back into the real world if the writing takes her too far away. Her sons know she likes to write stories, but gratefully have never asked to read any, thank God! Raine loves to hear from readers and to chat about the characters in her books.
5 signed paperback copies of Naked plus swags (5 winners)